eFax Corporate Achieves HITRUST Certification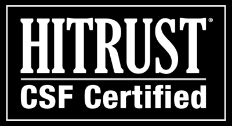 HITRUST CSF Certification Overview
eFax Corporate®, the world's leading enterprise-grade cloud fax solution, is thrilled to have achieved the HITRUST Common Security Framework (CSF) certification. Achieving the HITRUST CSF certification reflects the highest level of commitment to security and compliance in an organization.
eFax Corporate is proud to become the first major cloud fax provider to obtain this certification as it is considered by many to be the "gold standard" for a compliance framework in the healthcare information industry.
 Read the press release.
For integration into EHR systems and enhancing interoperability, see our 
eFax Enterprise APIs
, which have also been HITRUST CSF
®
 Certified.
White Paper: Cloud Fax Changes the Game for Compliance—Why Highly Regulated Businesses Make the Switch
We will use the details provided to contact you about our services, you can opt-out at anytime. See our Privacy Policy & Customer Agreement for more information.
EFAX CORPORATE IS YOUR TRUSTED CLOUD FAX PARTNER
Receiving the HITRUST CSF Certification demonstrates eFax Corporate's commitment to ongoing innovation and ensures that our DCFT will continue to comply with privacy and security laws in the delivery of personal health care information as the field continues to grow and change.
We are extremely proud of this certification. It demonstrates our continuing commitment to innovation, quality and trust. We know you share our commitment to these ideals.
To find out more about the HITRUST CSF Certification and eFax Corporate's digital cloud fax technology,
please reach out to us:
We can't wait to hear from you.